7th AAWC - Action 2023 Speakers
Aurelia Adhiambo || Open Wing Alliance (OWA) Africa Coordinator at the Humane League.
Aurelia Adhiambo || Open Wing Alliance (OWA) Africa Coordinator at the Humane League
Aurelia Adhiambo is the Open Wing Alliance (OWA) Africa Coordinator at the Humane League. The Open Wing Alliance (OWA) is a global coalition of animal welfare organizations working together towards ending the abuse of chickens. Having 90+ members globally, the OWA targets companies asking them to make a public cage-free commitment, which is a public proclamation to support chicken welfare. In her capacity as the OWA Africa Coordinator, she supports the 23 OWA members from Africa through training, corporate campaigns, their OWA funded projects, and general support within the OWA. Aurelia is passionate about empowering African animal welfare organizations to work at their best capacity."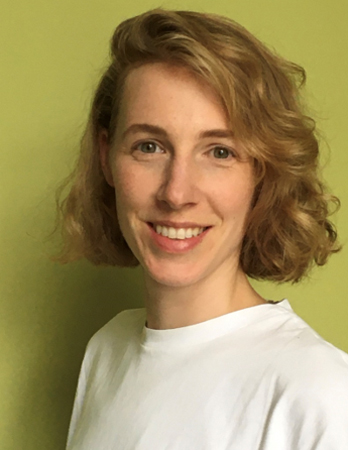 Carolin Breitenbach || WTS
Carolin Breitenbach || WTS
Carolin Breitenbach is a veterinarian with experience in veterinary practice, animal welfare education and international programme management. She is particularly passionate about improving animal welfare in education. As programme manager for WTS Vets United she has worked closely with lecturers at universities in various African countries in order to include animal welfare into the curriculum. With her global team she has recently developed comprehensive animal welfare teaching materials, which have been endorsed by institutions in Africa, Europe and Latin America.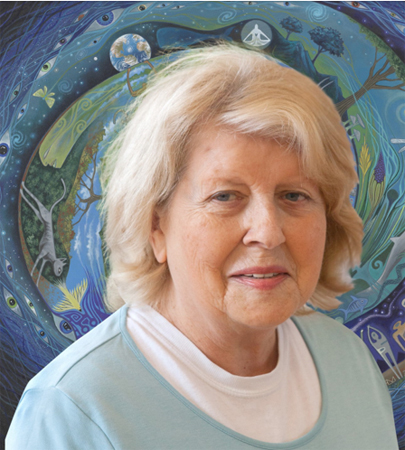 Joyce D'Silva - D.LITT., D. UNIV. (HONS). - Ambassador Emeritus for Compassion in World Farming
Joyce D'Silva - D.LITT., D. UNIV. (HONS). - Ambassador Emeritus for Compassion in World Farming
Joyce has an MA from Trinity College Dublin and two Honorary degrees from the universities of Winchester and Keele. Joyce taught in India and then became Head of Religious Education at a comprehensive school in England.
She has worked for Compassion in World Farming since 1985, including fourteen years as Chief Executive. Joyce played a key role in achieving the UK ban on sow stalls in the nineties and in getting recognition of animal sentience enshrined in the European Union Treaties.
Joyce has received an RSPCA Award for a "very important contribution in the field of animal welfare". She has given evidence to the UK and New Zealand governments, the European Commission and the United Nations on issues ranging from genetic engineering and cloning of farm animals to meat reduction and regenerative agriculture.
She has been vegan for 48 years.
Joyce co-edited, with Professor John Webster, the book The Meat Crisis: Developing more sustainable and ethical production and consumption, Earthscan, 2017.
In 2023 Joyce's new book Animal Welfare in World Religion: Teaching and Practice was published by Routledge and has been very well reviewed.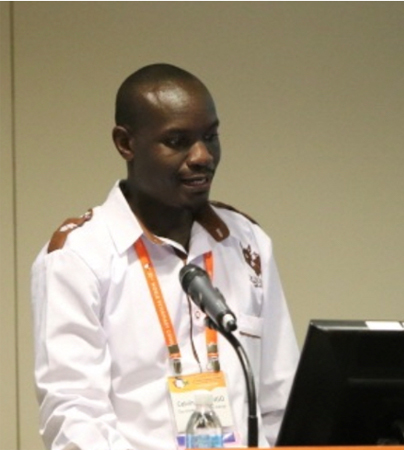 DR. CALVIN SOLOMON ONYANGO - Country Director, The Donkey Sanctuary-Kenya
DR. CALVIN SOLOMON ONYANGO - Country Director, The Donkey Sanctuary-Kenya
Dr Calvin Solomon Onyango Has served and still serve in many organizations in the capacity of an animal welfare champion with many years of experience in serving the needs of animals and linking good welfare state of animals to improved human welfare, environmental health and livelihood.

Solomon has done a lot of work in advocacy and research on matters to do with animal welfare and sustainable development. He has also done many presentations and lectures on the same at various conferences and universities. He currently serves in various capacity among them been The WOAH ANIMAL WELFARE FOCAL POINT FOR KENYA, Country Director for The Donkey Sanctuary Kenya office, member of Coordination Committee of the Africa Platform for Animal Welfare (APAW) among other roles and responsibilities in other national and international organizations.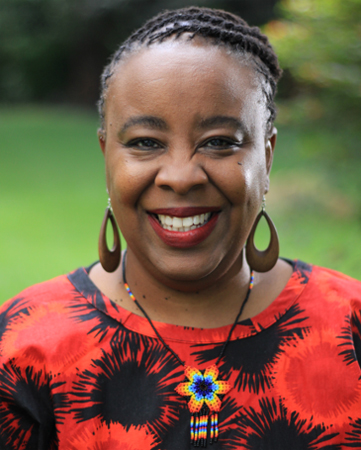 Dr. Kavosa Mudoga, BVM (UON), MPh (University of Melbourne) Director- Animals in Communities, Action for Protection of Animals Africa
Dr. Kavosa Mudoga, BVM (UON), MPh (University of Melbourne) Director- Animals in Communities, Action for Protection of Animals Africa
Dr. Kavosa Mudoga has over 26 years of experience having worked for various local and international organizations. she delivers 'humane dog population management' campaign which includes addressing rabies, dog population and related public health concerns based on the 'one health approach'. This is by working with governments, communities, consultative workshops, and partners like Zoonotic Disease Unit (Kenya) national rabies elimination coordination committee, AU-IBAR, WHO, OIE, FAO and Global Alliance for Rabies. Together with her partner and team at APAA we also work in the areas of Disaster Management, Wildlife (specific in the human, livestock, wildlife interphase) and areas of One Health.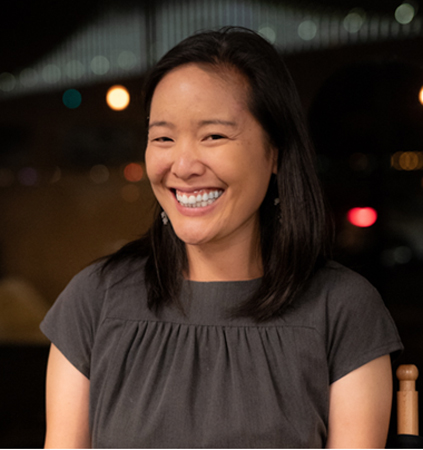 MONICA CHEN - Factory Farming Awareness Coalition
MONICA CHEN - Factory Farming Awareness Coalition
Monica Chen is the executive director of New Roots Institute, where she has overseen the development of a unique series of educational programs. New Roots educates high school and college students on the devastating impacts of factory farming and supports them as they become advocates for a just and sustainable food system. With the support of international organizations, New Roots is shifting attitudes and behavioral norms toward plant-centered menus.
Monica serves as an Advisor to Animal Defense Partnerships, the Animal and Vegan Advocacy Summit, and Scarlet Spark. A veteran teacher, she taught classroom environmental education to students at all grade levels and in residential settings. Monica earned her BA at UC Berkeley and her Master's in Education, with a focus on the environment, at the University of New Mexico.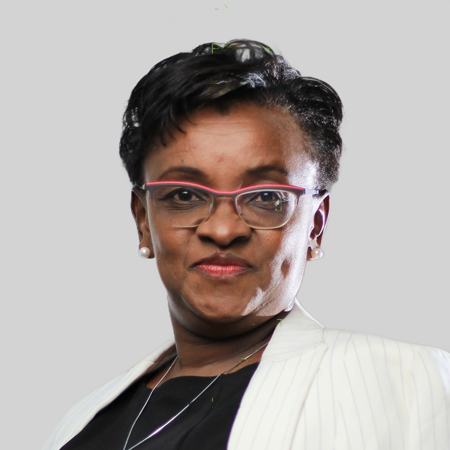 Dr. Judy Kimaru (BVM, MBA, PhD) - Director, Action for Protection of Animals Africa (APAA)
Dr. Judy Kimaru (BVM, MBA, PhD) - Director, Action for Protection of Animals Africa (APAA)
Dr. Judy Kimaru (BVM, MBA, PhD) is a disaster risk reduction specialist and veterinarian with an extensive career spanning over 25 years. Her experience encompasses pivotal roles within prominent UN agencies (UNOCHA, FAO, WFP, UNDP) and NGOs. Dr. Kimaru's expertise lies in disaster risk management, food security, and animal welfare. Her contributions have spanned diverse regions, including Africa and Asia, where she has spearheaded initiatives ranging from food security and training to policy development and project execution.
Furthermore, as a Director at Action for Protection of Animals Africa (APAA), Dr. Kimaru continues to drive impactful change. She holds a PhD in Environmental Governance and Management from the University of Nairobi, augmenting her profound insights into environmental management for livestock food systems. Her academic accomplishments include a Master's in Business Administration, reflecting her multifaceted approach to addressing complex challenges.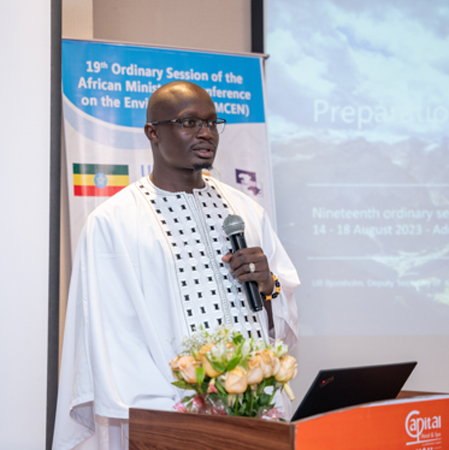 Mr. Isaiah Otieno || Civil Society Unit- Governance Affairs Office
Mr. Isaiah Otieno || Civil Society Unit- Governance Affairs Office
Mr. Isaiah Otieno holds a master's degree in information technology from Strathmore University and a bachelor's degree in information system technology from United States International University (USIU). Isaiah have worked in the Information and Technology field for a period of 10 year before following his passion in environment and joining UNEP in 2014. At UNEP Isaiah has been the focal point for organization from the Africa region by ensuring that Major Groups and Stakeholders are engaged meaningful in the work of UN Environment's Governing Bodies. Isaiah oversaw the signing of MOUs with a number of accredited organizations from Africa to enhance collaboration between UNEP and these organizations. Such MOU saw UNEP and Africa Network for Animal Welfare (ANAW) organize annual conference named Animal Welfare Conference. The first and the Second conference took place in Nairobi Kenya. The third conference took place in Addis Ababa, Ethiopia while the fourth conference that was to take place in Accra Ghana had to be held virtual due to the COVID-19 pandemic.
Isaiah has six years' experience in the UN system, working with the civil society in the environmental advocacy sphere.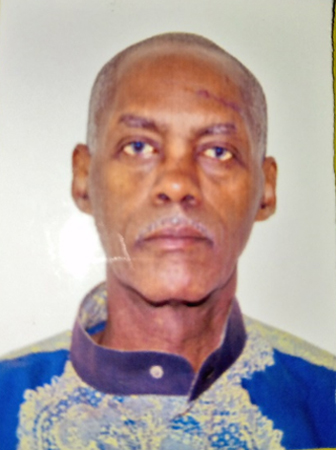 Dr. Mudakikwa Byara
Dr. Mudakikwa Byara Antoine, a revered retired Veterinarian, embodies an exceptional
journey marked by steadfast dedication to wildlife and environmental conservation. With
extensive service at Gorilla Doctors and RDB Tourism and Conservation, he emerged as a global
influencer in animal welfare as the Focal Point of CITES and OIE. His roles on the boards of
PASA, GRASP, and the African Elephant Coalition attest to his commitment to collaborative
conservation.
Dr. Antoine's legacy encompasses groundbreaking initiatives including the Mountain Gorilla
Skeleton Project and Saving the Crowned Crane Project, underscoring his commitment to
safeguarding species. His hands-on contributions to reintroducing African lions and Rhinoceros
in Rwanda underline his impact on rewilding.
A co-architect of Rwanda's inaugural One Health Strategic Plan, Dr. Antoine remains a
consultant and valued Board Member of the Rwanda Wildlife Conservation Society. His pivotal
involvement in the 7th Africa Animal Welfare Conference's Wildlife and Environmental Conservation session reflects his dedication to sharing insights that drive change. Dr. Mudakikwa Byara Antoine's narrative paints a picture of a visionary who, through tireless endeavors, has woven himself into the fabric of conservation
history, inspiring action for a sustainable future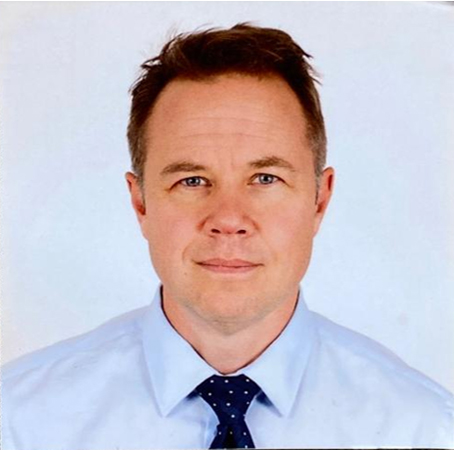 ULF BJÖRNHOLM - Chief, Civil Society Unit, United Nations Environment Programme
ULF BJÖRNHOLM - Chief, Civil Society Unit, United Nations Environment Programme
Ulf Björnholm has served as Deputy Secretary of Governing Bodies and Deputy Director for the UNEP Governance Affairs Office since December 2017, and is responsible for UNEP´s policy-making organs such as the United Nations Environment Assembly and the Committee of Permanent Representatives, and for UNEP´s engagement with major groups and stakeholders. He is also Head of the Governing Bodies Unit and Officer in Charge of the Civil Society Unit. 
Ulf joined UNEP in April in 2014 as Head of the UNEP Brussels Office, responsible for promoting and facilitating partnership-building between UNEP and the EU institutions as well as EU stakeholders in Brussels. He was also member of the Heads of Agencies Team of the United Nations Offices in Brussels, and he chaired the UN Brussels Policy Group on Sustainable Development and led efforts to green the UN House in Brussels.
Prior to joining UNEP, Ulf served in the European Commission, where he contributed to developing and negotiating a new clean air policy and legislation and represented the EU in international UN negotiations relating to air pollution.
A national of Sweden, Ulf has also held several positions as a representative and diplomat for the Swedish Government, both in Stockholm and abroad. In his role as a political advisor and negotiator on international environmental affairs for Sweden, he chaired and represented the EU at several UN/EU environmental negotiations during two EU Presidencies – in New York (2001) and in Brussels (2009). For almost 8 years he served as Environment and Climate Counsellor at the Swedish Permanent Representation to the EU in Brussels. In early 2000, he was appointed Second Secretary at the Swedish UN Mission in New York, responsible for the preparations of Rio + 10 in Johannesburg where Sweden served as Vice Chair in the Bureau. During the period 1996-99 he was the Swedish National Focal Point for UNEP, attending several UNEP Governing Council and Bureau meetings. Before joining the Swedish Government, he worked for local municipalities and for a youth network under the Swedish UN Association to promote the implementation of the outcomes of the 1992 Rio conference and Agenda 21 in Sweden, and in 1995-96 he represented Swedish youth before the UN Commission on Sustainable Development in New York.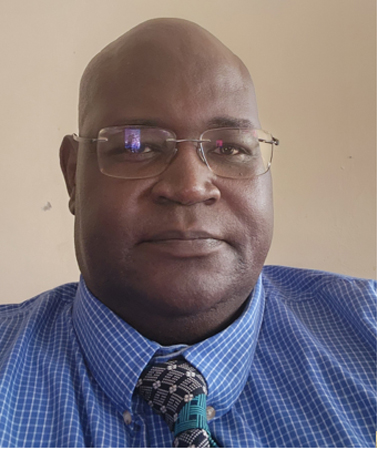 DR. OTIENO MTULA - Africa Campaigns Manager, The Donkey Sanctuary
DR. OTIENO MTULA - Africa Campaigns Manager, The Donkey Sanctuary
Otieno Mtula has a doctorate degree in economics from the Phillips University Marburg/Lahn, Germany and over 30 years' work experience in the policy design and implementation/socio-economic development/animal welfare work environment in Africa at continental, regional and national levels. He is currently the Regional Campaigns and Advocacy Manager (Africa) at the Donkey Sanctuary. Prior to this he was the Policy, Research and External Affairs Manager (Africa) at World Animal Protection, where he was part of the team that supported the convening of the first Africa Animal Welfare Conference at the African Union/Inter African Bureau for Animal Resources (AU IBAR) and was a member of the task force that developed the Animal Welfare Strategy for Africa (AWSA) and its implementation mechanism, the African Platform for Animal Welfare (APAW). He was also a member of the technical committee that developed the Intergovernmental Authority on Development (IGAD) Regional Animal Welfare Strategy. He has also worked on policy issues at the African Union/Inter African Bureau for Animal Resources (AU IBAR) supporting the establishment of platforms (policy hubs) and partnerships that enable the effective negotiation of equity driven policy changes and institutional reforms in the animal resources sector in Africa.  Further highlights include working as the Food and Agriculture Organization (FAO) Livestock Policy Advisor for the FAO/IGAD Livestock Policy Initiative based in Addis Ababa, Ethiopia where he provided policy advise and was responsible for the programme and activities of the project related to policy analysis and formulation, institutions, planning, political science, market access and service provision. A major milestone in this role was the signing of a "Regional Policy Framework on Animal Health in the Context of Trade and Vulnerability" (RPF) by Ministers responsible for Livestock in the IGAD member states. This was an agreement between IGAD member states on the management of their common challenges of animal disease, trade and poverty alleviation.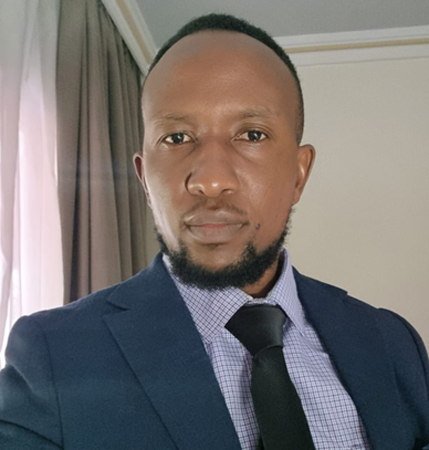 David Ngigi Munene
David is one of the two democratically elected Regional Facilitators for the UN Environment Programme (UNEP) Major Groups and Stakeholders (MGS), Africa, Programs Manager at the Catholic Youth Network for Environmental Sustainability in Africa (CYNESA) and sits at the Board of Directors of the Southern African Faith Communities' Environment Institute (SAFCEI). A computer scientist, David has been working with young people across Africa and beyond since 2013 to address biodiversity loss, climate change, and plastic pollution. He is a YALI (Young African Leaders Initiative) fellow and was the first president of the Kenya National Chapter for the Ecosystems-based Adaptation for Food Security Assembly (EBAFOSA). He has been involved in environmental policy and negotiations since 2014 including at the UN Environment Assembly (UNEA), UNFCCC CoP, and the African Ministerial Conference on the Environment (AMCEN). Together with his co-regional facilitator, David organized and facilitated the 2022 and 2023 Regional Consultative Meetings (RCMs) of the UNEP MGS, Africa ahead of the Eighteenth and Nineteenth Ordinary Sessions of the AMCEN in Dakar and Addis Ababa respectively. David was lead author for the CYNESA booklet, "Amplifying the Voices of Young People of Faith in in Kenya in the post-2020 Global Biodiversity Framework's Discourse," and authored environmental content for the Jesuit "Living Magis" app.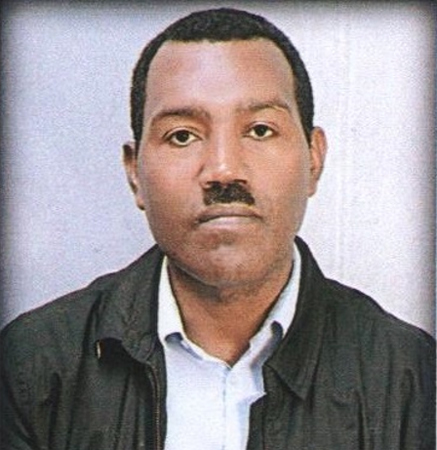 BOJIA E DUGUMA - Country Representative, Donkey Sanctuary Ethiopia
BOJIA E DUGUMA - Country Representative, Donkey Sanctuary Ethiopia
Bojia E Duguma, Director of The Donkey Sanctuary operations in Ethiopia, is an epidemiologist who graduated from the University College of London. He has been providing strategic leadership in the development of equine welfare and equine veterinary education in Ethiopia for over two decades. He was granted a Special OIE Award, for demonstrating, the role of community education in sustainable equine welfare in Ethiopia. Dr. Bojia has developed a practical reputation in equine health and welfare training, research and advocacy. He also shares his experiences in the spectrum of academia providing lectures, advising students, and evaluating research papers as an external examiner. Dr. Bojia currently serves as the president of the Ethiopian Veterinary Association. He is also the international representative of AAWC in the Horn of Africa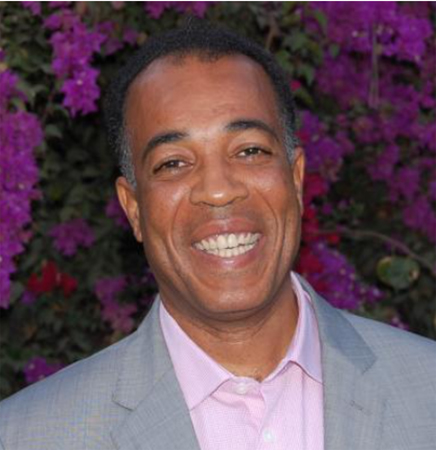 Dr. Abdelkader Bensada || Programme Management Officer, UNEP
Dr. Abdelkader Bensada || Programme Management Officer, UNEP
Dr. Abdelkader is a Programme management officer for the land and biodiversity branch. He is responsible for UNEP's work on sustainable pastoralism and rangeland conservation and is UNEP's focal point forUNEA5- Res1 Animal Welfare and sustainable development Nexus. He has a background in forestry with extensive experience in biodiversity conservation and protected areas management.
Abdelkader holds a PhD in forests ecology and conservation from University of Padova in Italy.
Abdelkader is a true blend of diverse culture and experiences coupled with a perfect polyglot (Arabic, French, English, Italian).
He brings almost 25 years' experience leading and advising on biodiversity conservations in particularly on drylands, protected area management and integrated forest conservation.
Before joining UNEP, Mr. Abdelkader Bensada served with UNOPS as the Regional Project Coordinator (2010-2015), where he managed a complex multi-donor project on sustainable management of endemic ruminant livestock in West Africa. He was also responsible for providing advice and guidance, reinforcing standards, and developing and delivering high-quality and impactful training on project management for junior managers and staff.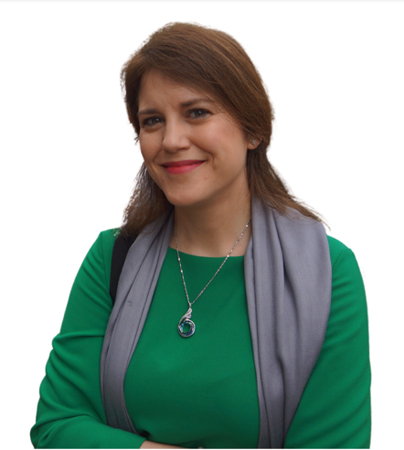 Dr. Rebeca García Pinillos || Veterinarian
Dr. Rebeca García Pinillos || Veterinarian
Dr. Rebeca García Pinillos is a veterinarian qualified in the University of Zaragoza (Spain), PhD from the University of Reading (England) and a specialist in animal welfare, ethics and legislation recognized by the Royal College of Veterinary Surgeons and the European College of Animal Welfare and Behavioural Medicine. 
She has worked in veterinary practice, as a government veterinary surgeon since 2001 and is past-president of the Association of Government Veterinary Surgeons in England. Rebeca has also worked as a volunteer with exotic animals and currently supports the UN Environment Programme as an international consultant. Rebeca is an internationally recognized lecturer and speaker in the field of animal welfare and One Welfare, educating and lecturing worldwide. She founded the non-profit social enterprise One Welfare CIC through which she has established a global presence of the One Welfare concept, supporting educational and research systems worldwide.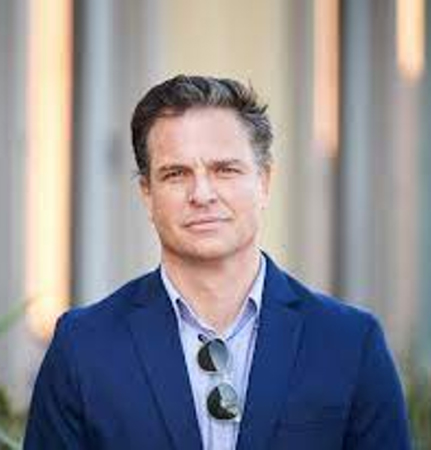 Carter Dillard
Carter Dillard worked previously as the Animal Legal Defense Fund Director of Litigation, during which time he helped quadruple the number cases the organization had filed and helped oversee its first undercover investigations. Prior to joining the Animal Legal Defense Fund, Carter served as an Honors Program attorney for the U.S. Department of Justice and as a legal advisor to the U.S. Department of Homeland Security, in the National Security Law Division. He also served as General Counsel of Animal Outlook, and Director of farmed animal litigation at the Humane Society of the United States. He has taught on the faculties or held appointments at University of Oxford, Lewis and Clark Law School, Emory University School of Law, and Loyola University New Orleans, College of Law. Carter has been a peer reviewer for the journal Bioethics, his work has been published by Yale, Duke, and Northwestern universities, as well in several peer-reviewed journals, is often recommended reading on the competitive Legal Theory Blog and has been extensively cited. He currently serves as Advisor and Counsel, for the Stable Planet Alliance.

Carter has a B.A. from Boston College, a J.D., Order of the Coif and with honors, from Emory University, and an LL.M. from New York University where he wrote his thesis under Jeremy Waldron, later developed into a peer-reviewed book entitled Justice as a Fair Start in Life, which treats reliance on basic norms other than a just creation norm as a logical fallacy. Carter is the co-founder of the organization Fair Start Movement, which has developed such a just creation norm as a human rights-based, child-centric and "zero baseline" family planning model with an exponentially greater impact on sustainable development and animal protection than downstream alternatives. Carter has begun to implement a transition to child-centric "Fair Start" family planning, where future children are a specially protected class, both as a member of the Steering Committee of the Population Ethics and Policy Research Project, and as a visiting scholar of the Uehiro Center, both at the University of Oxford. Carter has been invited to speak at the UN World Civic Forum and dozens of other conferences, he has appeared on Fox Business News, and his work has appeared in the New York Times, Salon, The Hill, Washington Times, and the International Herald Tribune.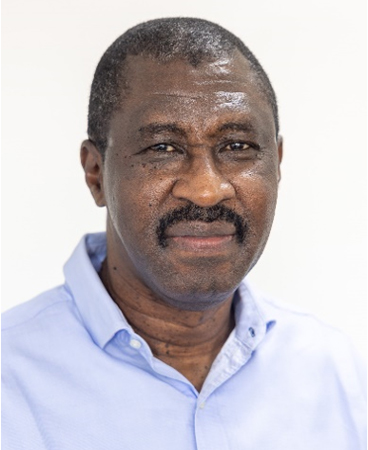 TENNYSON J. C. WILLIAMS - DIRECTOR for AFRICA, WORLD ANIMAL PROTECTION
TENNYSON J. C. WILLIAMS - DIRECTOR for AFRICA, WORLD ANIMAL PROTECTION
Tennyson J. C. Williams is currently the Director for Africa, World Animal Protection based in Nairobi, Kenya. In addition to his overall management and leadership responsibilities, he is also a member of the Global Senior Leadership Team.
As an international development specialist, with over Twenty-five years of experience with International Livestock Research Institute Nairobi, ActionAid International and World Animal Protection, Tennyson has held several senior management positions directing Africa-wide regional programmes.
Originally from Sierra Leone, he was the ActionAid Kenya Country Director responsible for directing programmes, and shaping the development of the organization in the country. Prior to that, he was ActionAid International Director for West and Central Africa, responsible for providing leadership and management support to nine countries in West and Central Africa, and promoting the causes targeted by ActionAid International.
Before that, he was Country Director for ActionAid in Sierra Leone focusing on poverty reduction and humanitarian interventions. While in Sierra Leone, Tennyson led the development process of the country strategy paper and contributed to the positioning of Sierra Leone's development agenda at national and international levels.
Tennyson was also involved in several research and consultancy projects and contributed to the design of civil society programmes, undertook evaluation of various programmes and served on the boards of ActionAid International UK and Open Society Initiative for West Africa.
Tennyson holds an MSC. in Zoology, BSC in Agriculture, Diploma in Epidemiology and control of Human Vector- Borne diseases and a certificate in Human Resources and Industrial Relations Management.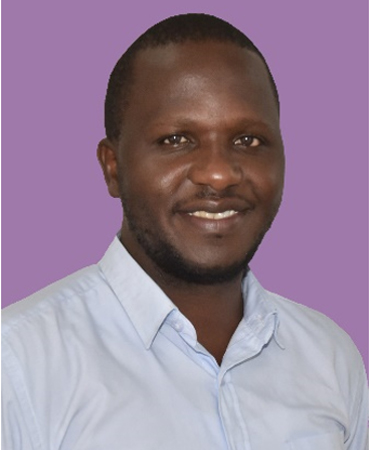 Dr. Patrick Muinde || Research Manager at World Animal Protection,
Dr. Patrick Muinde || Research Manager at World Animal Protection
Dr. Patrick Muinde is a Research Manager at World Animal Protection, an animal welfare organization envisioned in inspiring and moving the world to safeguard the welfare of animals. As a Research Manager, he collaborates with colleagues and institutions on a local, regional and global scale to provide credible evidence that informs delivery of evidence-based campaigns aimed at realizing the organization's vision of a world free of cruelty and suffering for animals.
Before joining World Animal Protection, Patrick spent six years at the International Livestock Research Institute where he worked on a variety of multidisciplinary research projects ranging from emergence and spread of zoonotic diseases, to mapping and understanding livestock value chains and associated food safety risks.
Dr. Patrick works with key stakeholders in wildlife and livestock to catalyze policy and socio-economic change that benefits animals, people and the planet, and believes that what is good for animals is good for the people and the world. Patrick envisions a world in which mankind recognizes the importance of high animal welfare in sustainable food systems and where wildlife is protected from all forms of cruel exploitation, for a healthy environment and climate-safe future.
For any queries, please contact us on:
Email: info@aawconference.org
Cell Phone: +254 – (0) 798 452 625